Where in the Kawarthas will you find a Singing Buffalo, Special Phoenix, Kung Pao Chicken?
There's only one, very special place, Cody Inn. Perched on a little hill, in Buckhorn, overlooking Lock 31, our restaurant, which has been called a "tiny treasure" offers up these and other Oriental favourites:
Peach shrimp
Black pepper chicken
Lemon chicken
And Ginger beef
Each dish is prepared to order, from fresh-from-the-garden ingredients, delicately seasoned and beautifully presented. You can eat in our charming covered patio, in the inn itself, or pick up your order for a very special picnic or party.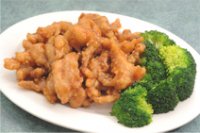 We use NO MSG in any of our dishes.
Business Hours
March to November, 12 pm to 8 pm
December, 2 pm to 7 pm
Closed on Tuesdays
The Cody Inn Restaurant closes for the winter season and re-opens in early March.